wheel
now browsing by tag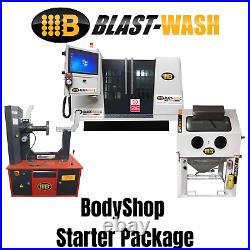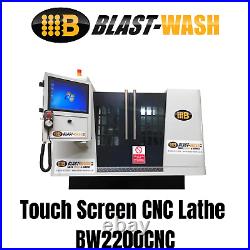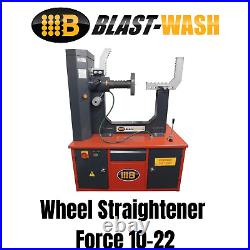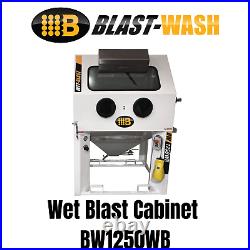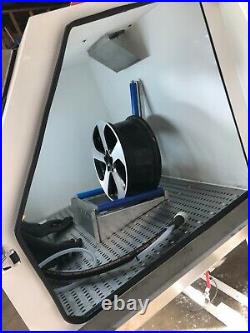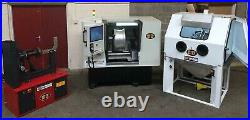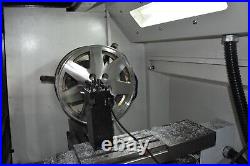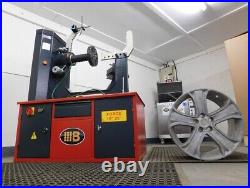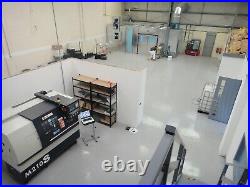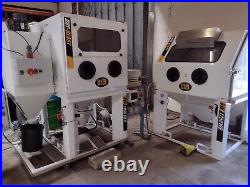 BlastWash Body Shop Starter Package. BW2200CNC Diamond Cutting CNC Lathe. BW1250WB Wet Blasting Cabinet. 2 Days intensive training course included. Blast Wash BW2200CNC Touch Screen Pro Diamond Cutting CNC. Repairs Wheels from 13? Automatic precision repair and machining in accordance with the curve of the wheel surface. Easy to use Microsoft Touch Screen Controller. Fast Laser Plotting System. Latest Air Activated Anti-Blooming Cooling System. Weight is under 1500KGs easy to move. Supplied across UK and Europe? Lowest price across the UK. The machine has a USB connection and is internet enabled so the software can be updated and parameters can be manipulated via the OEM for training and monitoring purposes. Easy to use Touch Screen Software designed solely for alloy wheels. Smoothing Program to enable you to cut out damage. Two days intensive training. We can offer full finance packages? S responsibility to unload the machine and site, level and connect to the electricity with an appropriate supply. Probe Measuring Direction X, Z. Probe Measure Way: Contact. Surface roughness: um Ra0.81.6. Main transmission form Independent spindle; frequency conversion stepless. Range of spindle speed: rpm 1502800. Main motor power: 3 KW. Fast-moving feed X – axis: 5000 Z – axis: 8000 mm/min. Repeat positioning accuracy X – axis:0.01 Z – axis:0.015 mm. Turret form 3-position fixed turret. Section of turning tool 25×25 mm. The size of the machine (L×W×H) 2000×1500×1800. Net weight of the machine approx. All images used are stock photos and used for illustration purposes only. We have the right to change the design and specification of the machine in line with current health and safety and manufacturing techniques without prior notice. BW1250 Wet Blasting Cabinet. With FREE rotating wheel stand. Includes initial supply of blasting media. Designed with 45 years combined experience in the industry. Recently redesigned with many improvements. The wet blast process. Slurry is accelerated using compressed air through the pump, mixing the abrasive and water to process the parts, leaving an aesthetically pleasing, polished finish. The slurry is recycled, abrasive or contaminants float to the top as the lighter or broken parts exit via the overflow. Closed loop requires a constant water supply with access to a drain. Open loop does not require a constant water supply or drain, filter paper cleans the water and recycles it back into the machine. Cleans through flow not impact. Minimum damage on soft metals. T alter the surface of the substrate. Simultaneously degreases and blasts at the same time, for a smoother and brighter finish. Classic Motorcycle & Car Parts Restoration. Precision Engineered Components Preparation. Cylinder heads, starter motor, gearboxes. Aircraft parts, breaking systems, wheels. Many Other surface Treatment Applications and Engineering Finishing. Scale / Lime scale. Fully stainless steel construction. 3 phase supply or single also available. Enhanced pump design reducing consumable costs. Quality 24V windscreen wiper motor. Compatible with a wide range of media depending on your application? We can advise on this. Optional blast gun holder for longer blasting jobs. Optional adjustable temperature controlled sump heater. Choice of nozzle size, with stainless steel air jet. Heavy duty 2.2KW pump motor capacity. Optional open or closed loop system. Roll in roll out. Twin door or left door opening (right side as standard). Blast Wash BW26FORCE Wheel Straightener. The machine itself has a footprint of 1.5m from left to right x 1m deep x 1.5m high and a gross weight of 350KG. Shaft motor: 0,55 kw, 1400rpm, 0,75hp. Hydraulic motor: 0,75kw, 900 rpm, 1 hp. 14 pcs rim attaching centre. 1pc angular press tip. Pc flat press tip. 1 pc gradated press tip. 1pc fork press tip. 1 pc cutting type press tip. 1 pc oval press tip. 1 pc oval with groove press tip. 3pcs support axis for press tip. 1 pc upper support. 1 pc lower support. Flange nuts and bolts. To book a demonstration. Or for a free quotation! This item is in the category "Vehicle Parts & Accessories\Garage Equipment & Tools\Paints & Supplies\Other Body Paint & Supplies". The seller is "blastwashuk" and is located in this country: GB. This item can be shipped to United Kingdom.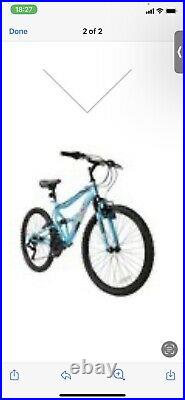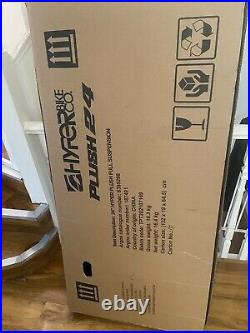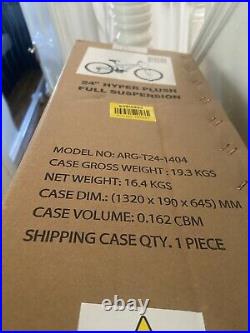 Hyper Plush 24ins Wheel Size Dual Suspension Bike. This item is in the category "Sporting Goods\Cycling\Electric Bikes". The seller is "somal_91″ and is located in this country: GB. This item can be shipped to United Kingdom.
Brand: Hyper
Model Year: 2021
Bike Type: E-Mountain Bike
Colour: Blue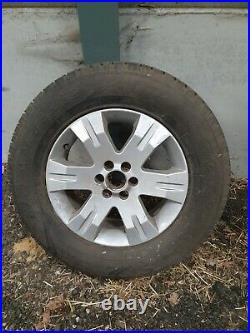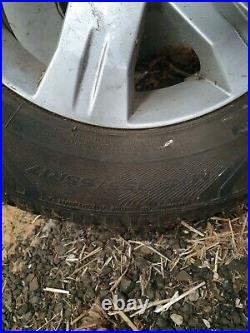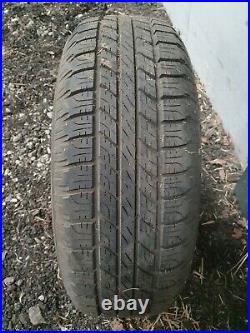 New alloy wheel and brand new tyre 255/65R17 Never used but dusty from storage Collection from CO5. This item is in the category "Vehicle Parts & Accessories\Car Parts & Accessories\Wheels, Tyres & Parts\Wheels with Tyres". The seller is "babygrumplin" and is located in this country: GB. This item can be shipped to United Kingdom.
Model: NAVARA
Brand: NISSAN
Mileage: 0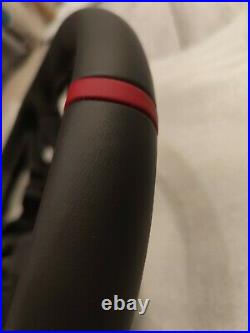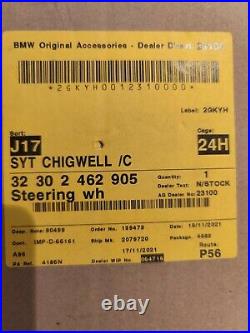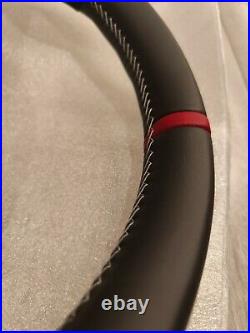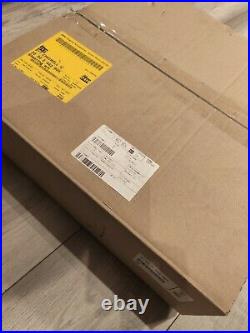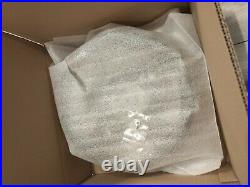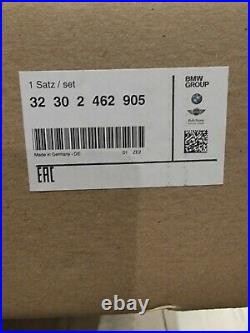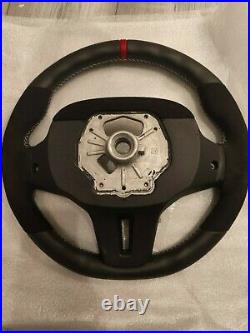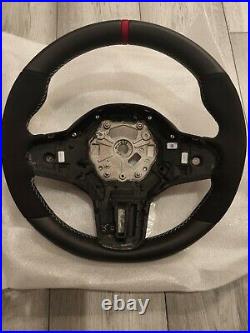 BMW Genuine M Performance steering wheel new in box 2021 from main dealers. This item is in the category "Vehicle Parts & Accessories\Car Parts & Accessories\Interior Parts & Accessories\Steering Wheels & Horn Buttons". The seller is "arasg43″ and is located in this country: GB. This item can be shipped to United Kingdom.
Brand: BMW
Type: Steering Wheel
Classic Car Part: No
Items Included: Steering Wheel
Manufacturer Part Number: 32302462905
Material: Leather
Reference OE/OEM Number: 32302462905



Wheel of the year made of cork wood. This material is completely eco-friendly. The cork is hypoallergenic, versatile and absolutely unique due to its granular structure. It is the same warm material as ordinary wood, and its magical properties are excellent! Pagan wheel of the year with tree of life to remind you of the changing seasons and sabbaths. The perfect gift for yourself, any practicing witch or wiccan, or any who are interested in pagan calendars. This Board can be used to display your crystals, keep candles, or as an altar mat or wall decor in the larger sizes, or you can use it as you want. The photos show a size of 6 inches. Size: width 1/6 in. 4 in – 10 cm. Great for traveling, fits easily in your pocket or wallet. 6 in – 15 cm. It fits perfectly in the bag, with it you get a beautiful display on the altar or table. 8 in – 20 cm. For home altar or wall decoration. You can also take with you, but in a large bag. 12 in – 30 cm. Great for anyone planning to conduct divination classes. Or this board can be a decoration, and it can be hung on the wall. 14 in – 35 cm. Width 1/4 in (6 mm). 18 in – 45 cm. The size is perfect for home decor, you can write to me in personalization and I will make a wall decoration out of this board. 22 in – 55 cm. For home decor and wall decor. Please note that on the back of the board we glue the linings for ease of use. They may differ from the photo depending on the size of the board. Only board for sale. These photos are just an example of how a painted product with a drawing looks. Please note that the staining may be uneven due to the nature of the wood. We do our best to make our products perfect. Our production is made of environmentally friendly birch of high-quality. Some of our largest products are boards for fortune-telling, rune stands etc. Due to the texture of the wood and the high processing temperature the products may not be 100% flat even if they are placed on the surface. We keep our boards on a level surface. You can put heavy books on them so that they are more plane. All items are for entertainment purposes only. Only you control your life. Our pieces are just tools that can help you on your magical journey. Please note that we try very hard to make our products blameless, although they may differ from what you see in the photos. A different batch of wood and the human factor can slightly affect the final result. However, in every product we put our soul and good energy for you! Your comments, messages and orders mean a lot to me. Usually it takes 1-1,5 months for parcels from Russia to come. Sometimes they arrive faster, but it is a lottery. Please consider it making an order if you want to get it in time. This item is in the category "Home & Garden\Home Décor\Other Home Décor". The seller is "nikol.chuma" and is located in this country: RU. This item can be shipped worldwide.
Color: Wood
Size: 22 in
Pendulum: No
Material: Wood
Type: Wood decor
Brand: Handmade